Book Presentation
Sripada Srivallabha Charitamrutam
by Shankar Bhatt Book Presentation Overview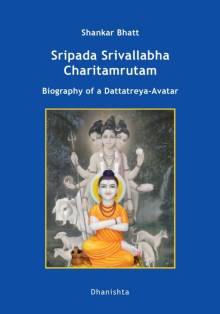 Short Description:
The "Srīpāda Srīvallabha Charitāmrutam" is an extraordinary book about the first incarnation of Lord Dattatreya in the present age. In an exciting and entertaining way, it gives an insight into the fascinating biography of Srīpāda Srīvallabha (1320-1350), his sportive plays, teachings, prophecies and miracles. It provides a feeling of being in his very presence and to participate in the events.

As decreed by Srīpada, the work written during his lifetime was kept secret. It would come to light during the 33rd generation of his maternal grandfather. It came to light in 2001. It was published in Telugu and has been translated by now into several languages. And as predicted centuries ago in the original, the Srīpāda Srīvallabha Charitāmrutam now also appears in German.

The English version is not published by the World Teacher Trust (WTT). The German version is published by Edition Kulapati of WTT Germany; it contains a foreword by Dr. K. Parvathi Kumar and is enriched with many footnote explanations, 21 images and a commented register of persons.
Sample
Teachings of Srīpāda: The Twelve Statements of Assurance
Srīpāda gave the following Statements of Assurance to all devotees in the house of his devotee Datta Das:
I will remain in a subtle form in every place where My biography is devotedly read.

Just like an eye-lid, I will protect the person who is dedicated to Me through mind, word, and deed.

Daily in the afternoon I seek alms in Srī Pīthikapuram. My arrival is a divine secret.

I will reduce all the karmas into heaps of ashes of those who constantly meditate upon Me. Even if the karmas are accumulated from many births I will burn them down.

If you give food to those in need I will be pleased.

I am Srīpāda Srīvallabha! Srī Mahalakshmi shines with all Her glorious attributes in the houses of My devotees.

If you have a pure heart My grace will always be on you.

I am agreeable even when you adore any form of deity, or take the support of any sadguru.

All your prayers reach Me. My grace is transmitted to you through the form of deity you worship or through your sadguru.

Srīpāda Srīvallabha is not merely confined to this name and form. Only by strict observance of spiritual discipline, you can know My corporeal cosmic form encompassing all forms of deities and all forces as My integral parts.

Mine is a comprehensive yogic incarnation. Great yogis and great siddhas constantly meditate upon Me.

If you take Me as a support, I will preach you the path of dharma and also the path of karma. I will always protect you from a downfall.