Balabhanu Vidyalayam School
"Good Will is Love in Action"

Service | Service Projects
WTT Groups in India

Value-based Education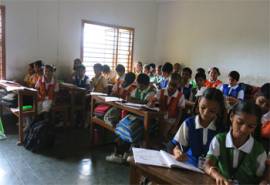 The Balabhanu Vidyalayam School is operated in the urban area of Visakhapatnam. It has excellent infrastructure facilities and imparts spiritual, moral, and social values besides the normal education. The curriculum has a unique combination of Eastern spiritualism and Western practicality including modern science and technology. In addition to the normal curriculum, the Vidyalayam gives importance for teaching computer science, yoga, sports and games, music (vocal and instrumental), and other extra-curricular activities for the well rounded development of the students.
The Vidyalayam is recognised by the Government of Andhra Pradesh for providing education up to 10th standard and is highly regarded for its value-based education. The Vidyalayam students have been performing outstandingly in the state board examinations; till date, all the 22 batches of 10th standard have passed the examinations with 100% distinction and high first class marks. All the old students of Vidyalayam have had successful careers and are very well settled in their lives.
A Dedicated Team
The Vidyalayam has been guided by Dr. K. Parvathi Kumar as the Chairman since 1977. Mrs. Parvathi Varanasi joined the Vidyalayam as Principal in 1984 working with great commitment; she is now in the Committee of the school. Since 2015, the Principal is Mrs Subhasree; she has been a teacher in the school from inception. She is supported by experienced and well-qualified B. Ed graduated teachers, rendering their efficient services to the cause of the Vidyalayam and the society.
Foundation
Balabhanu Vidyalayam was founded by Dr. Ekkirala Krishnamacharya in 1977, in a thatched roof on the terrace of a private house, with just 10 children. The chosen teachers at that time were housewives and fathers. It was his ambition that the children should be taught the fundamentals of the ancient wisdom right from their tender age. This is the guideline for the Vidyalayam till date. Gradually, the number of students increased and in 1996 a beautiful building was constructed in nature's lap at Muralinagar, Visakhapatnam. Now, 400 students attend the school.
Similar schools are also organised in other centres in Andhra Pradesh i.e., Srikakulam, Machilipatnam, Koduru and Kadapa.
Transforming the Children
In this school, the children are prepared to be servers for society and not exploiters. The school transforms the children into responsible youth, with a sense of direction and constructive contribution to society.
"Bala Bhanu" means "The Infant Sun"; it is expected that the children will be like a sun and shed light all around.